A solar fan is simply a fan that is powered by the sun. Instead of an electric cord that needs to be plugged into a wall socket, a solar fan is equipped with a solar panel, which can be mounted on the fan body or remotely connected. The 120- or 240-volt motor that a typical plug-in fan uses is replaced one that operates on 12-volt DC current to eliminate the need for converting the output current of the panel. Solar fans come in different sizes and are useful for cooling, among other things, attics, cabins, and car interiors.
An attic solar fan can be mounted in the roof like a skylight, in the gable, or affixed to a window ledge. A roof-mounted attic fan is supplied with galvanized steel flashing to make a leak-proof perimeter around the fan, and the solar panel, which can supply 10 watts of power or more, is usually affixed to an adjustable bracket so it can be tilted in the direction of the sun. A gable- or window-mounted fan, on the other hand, may be connected to the panel with wires, so the panel can be located in a remote sunny location.
Wiring the panel supplying a solar fan to a battery pack enables the fan to run at night and on cloudy days when it doesn't receive direct sunlight. This is useful if the fan's purpose is to reduce humidity in a moist location or to circulate heat generated by a solar collector or wood stove. The fan is less likely to drain the battery during times when the sun isn't out if it has a control mechanism that switches it on and off at regular intervals. This controller may be supplied as one of the options that come with the unit.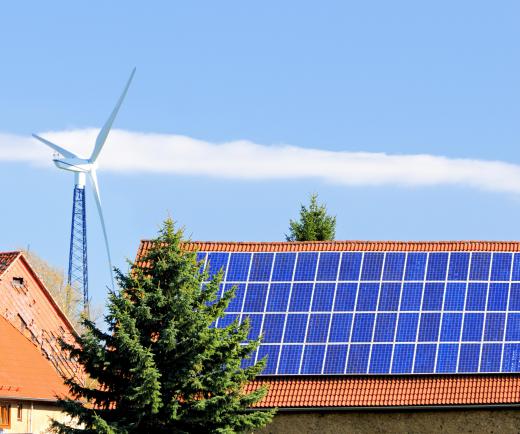 The cost of a solar fan is often more than that of a conventional electric fan, but because it doesn't use electricity, the extra cost can usually be regained over the life of the fan. A solar ceiling fan may thus be a cost-effective alternative to an electric one if the roof receives enough direct sunlight to run the fan during the hottest part of the day. In fact, a conventional ceiling fan can function as a solar fan if is connected to the battery via an inverter, which converts the 12-volt DC electricity generated by the panels to 120-volt AC power suitable for the fan.
AS FEATURED ON:
AS FEATURED ON:

By: Paul Maguire

Heat generated by a wood stove can be circulated with a solar fan.

By: anyaivanova

Solar attic fans are powered by solar panels mounted to roofs.