What are the Different Types of Solar Energy Products?
The advent of solar power technology has lead to all sorts of new gadgets and tools that run on the clean, renewable energy from the sun. Although many solar energy products are novelty products, the energy source is quickly growing in popularity as more people turn to renewable energy sources. From outdoor lamps to solar powered visors, the world of solar energy items seems to grow each day.
Heating a pool can dramatically increase household energy bills, although an unheated pool may be all but unusable in cooler climates. To keep utility bills down while keeping the pool at tropical temperatures, consider solar powered pool heating discs. The discs float on the surface of the pool, absorbing energy from the sun and transferring it to the water. Manufacturers recommend that the discs cover at least one third of the water's surface for best results.
Some solar energy products can become essentials in any emergency supply kit. Radios that run on solar power can allow people to keep up with current news and announcements in case of power outages or natural disasters. Solar powered battery charges can also help keep essential electronics running if power is unavailable. Flashlights and lanterns are great for emergency kits, but can also be good choices for hikers and backpackers trying to avoid the extra weight of batteries.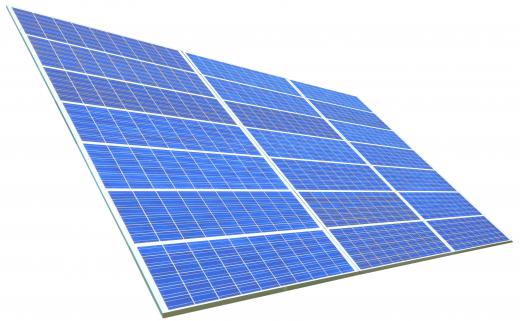 One fast-growing field of solar energy is outdoor lighting supplies. Lanterns, fake candles, and even tiki torches are available in solar powered form. These lights absorb energy throughout the day and begin to glow as the sun goes down. Not only do solar powered products for the outdoors cut down on energy costs, they also reduce pollution by eliminating the need for light bulbs.
Of course, not all solar energy products are simply accessories to a home; solar panels and generators can replace a traditional electricity system and provide enough power to run an entire house. Typically installed on a roof, solar panels provide homes and businesses with clean, renewable energy that results in far less expensive utility bills. For people with solar panels producing more energy than necessary, check with local authorities about selling excess power to the power companies.
Many experts consider current solar energy products to be just the tip of the iceberg as far as the potential applications for solar power. In addition to making the solar powered sun visor radio possible, solar energy technology may soon allow whole cities to run on clean, inexpensive energy from the sun. In the meantime, using solar energy products can cut down on waste and electricity bills.
AS FEATURED ON:
AS FEATURED ON:

By: Sergiogen

A closeup of a solar panel.

By: ryanking999

A solar panel.

By: Bert Folsom

Tiki torches may be available in solar powered form.