How do I Choose the Best Solar Cell Phone Charger?
A solar cell phone charger can be a great convenience for cell phone users who find themselves without a conventional source of power with which to charge their phone. There are several considerations that must be kept in mind when shopping for this type of cell phone charger, the first being compatibility with the user's cell phone. When comparing solar chargers, consumers should note how long it will take to fully charge a phone and whether the charger will work on cloudy days. Other concerns are ease of use and whether the charger can also charge other devices. Reading online reviews written by professional and consumer reviewers can be helpful sources of information for those weighing the pros and cons of particular products.
When looking for an alternate source of power to use in charging their cell phones, some consumers look to the sun. A solar cell phone charger can be a great convenience to cell phone users who find themselves unable to use electric power because of frequent power outages or because they spend a lot of time outdoors. Others like the idea of using the sun to recharge their phones because of its green component. Whatever the reason, there are several solar phone chargers on the market, with different capabilities and features.
The first step when shopping for a solar cell phone charger is to make sure the device supports the brand and type of cell phone with which it will be used. The amount of time needed for a full charge is also a consideration. Charging a cell phone using the sun will usually take longer than plugging it into an electrical outlet, but variation between models can be great. Some of these chargers also claim to be able to charge a phone under cloudy conditions, while others do not make that claim. Consumers who wish to charge other devices, such as iPods, personal digital assistants (PDAs) and MP3 players should be certain the model they choose has that capability.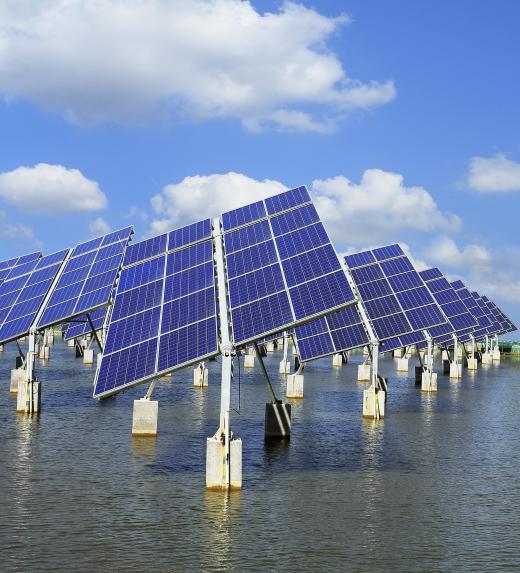 One feature users may find convenient in this type of charger is a built-in battery that can hold a charge for hours, or even days. Another issue to consider is the size of the device, particularly if the charger will be taking up room in a hiker's backpack. Something to keep the solar panels safe from damage is a desirable feature, as well, and some models of solar panel chargers will fold up to protect these delicate components. Chargers come in different styles, some of which can prevent a unit from standing on its own while charging. Many come with suction cups that allow them to be attached to a window.
Reading professional online reviews of these types of chargers will educate shoppers about the pros and cons of each solar cell phone charger as well as its features. User-review sites and retail sites that encourage consumers to offer their opinions on products are a rich source of information that professional reviewers may not touch on and should be perused before making a solar cell phone charger purchase. Manufacturers' websites often offer more technical information than review sites and are also worth a look.
AS FEATURED ON:
AS FEATURED ON:

By: amorphis

A cell phone that can work with a solar charger.

By: Aania

Solar panels convert sunlight into usable energy.