How do I Choose the Best Solar Battery Charger?
A solar battery charger uses solar panels to turn light energy into electrical energy. Solar chargers provide a convenient and environmentally friendly way to charge batteries in situations where it might not otherwise be possible to charge batteries. When choosing the best solar battery charger, there are a number of things to take into consideration. The solar charger that you choose depends on what kind of battery you are charging, how portable the charger needs to be, and the price that you are willing to pay for the charger.
A larger solar charger provides more surface area to absorb sunlight, which allows the charger to produce more power. The size of the solar charger that you need depends on the capacity of the battery that you are charging. For a small battery, such as a cell phone battery, a small charger will work fine. For larger batteries, such as laptop batteries, a larger solar charger is necessary.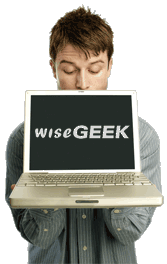 Another important factor to consider when purchasing a solar charger is the portability and form of the solar charger. Solar chargers are often used during outdoor activities such as camping. If you plan on using your charger for outdoor activities, it is important to make sure that you choose a solar charger that is durable and portable enough to take with you. A folding solar battery charger is much more portable than a flat panel solar charger and is probably a better choice if portability is important.
Many solar chargers designed for electronics use a universal serial bus (USB) port to charge through. This is practical because almost all modern electronics can be charged through USB cables. Some cell phones and music players also have cases specifically designed for them that have built-in solar panels. Other chargers charge through metal clips, which allows them to charge almost any kind of battery.
Typically, a solar battery charger with a higher wattage rating will be more expensive than a solar battery charger with a lower wattage rating. If cost is an issue, it may be a good idea to go with a solar charger with a lower wattage. It will take longer to charge your batter with a lower wattage rating, but the trade-off may be worth it for those with budget concerns.
Another option is to build a solar battery charger instead of purchasing one. It is fairly easy to build one, and is less expensive than purchasing a solar charger. Homemade solar chargers may not as durable, reliable, or portable as purchased solar chargers, however.
AS FEATURED ON:
AS FEATURED ON:

Man holding computer