How do I Choose the Best Portable Solar Charger?
You can choose the best portable solar charger for an electronic device by evaluating the features of the compatible options. A portable solar charger is designed to collect electric energy from the rays of the sun through a solar panel. The solar charger can then travel along with a wireless electrically powered unit to provide an alternative source of electricity when the native battery has run out. Choosing the right charger involves a little research into the device and the specifics of the charger. High-quality portable solar chargers can extend the range of electric devices for many hours beyond their original battery limitations.
Solar chargers can provide a power source when outlets are not compatible or nowhere nearby. Consider where and for how long you use your favorite electronic gadgets. Wall outlets do not always provide the correct power levels or input holes when traveling around the world. Exploring nature can also make sources of electricity difficult to come by. With the portable solar charger, all that is needed are the rays of the sun to get a compatible device up and running again.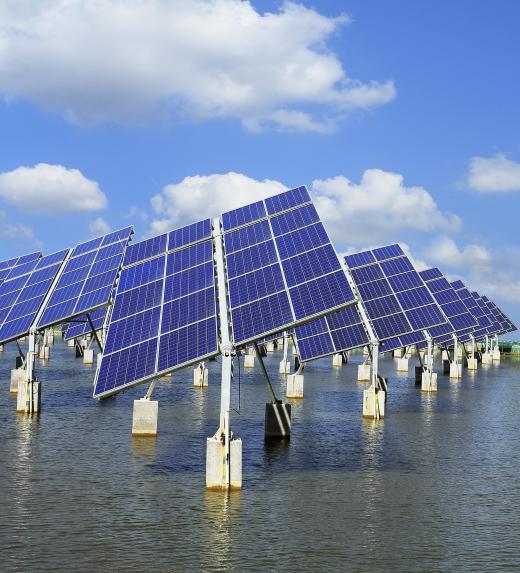 Portable solar chargers usually connect to the device directly or use a cord to transfer the electrical charge. It is important to locate confirmation on the packaging that the portable solar charger is known to power the equipment for which it is needed. A portable charger still may not be able to transfer electricity once the connection to the device is made. Fully test any potentially compatible chargers before making a final selection.
A universal solar charger can be used to power a variety of devices. Consider how many units you need to power to find the portable solar charger that best meets your needs. Many universal chargers come equipped with a selection of power transfer cords or cord tips to fit a variety of electronic inputs. One multi-use solar charger can keep an entire arsenal of electric toys working as long as the sun is out. Universal solar chargers may be the best option for someone who travels with multiple battery-operated devices.
Base the final portable solar charger purchase decision on product quality and price. Select a charger with good customer reviews and ratings by researching comments on electronic accessories sites. Compare similarly priced chargers by the battery life hours they provide and the time in the sun they require for a full charge.
AS FEATURED ON:
AS FEATURED ON:

By: Aania

Solar panels convert sunlight into usable energy.