Solar lights are lights that are powered by sunlight. They are generally used in outdoor applications and have gained in popularity as consumers have sought alternatives to electrical lighting. Many consumers are attracted to solar lighting because it is widely considered to be more environmentally friendly than lights powered by electricity. Solar lights are also convenient to use because they are designed to automatically turn on whenever lighting is needed and turn off when lighting is no longer required.
Solar lights are often used for outdoor garden decorative lighting, to illuminate outdoor pathways and walkways, and also as spot lighting. Solar lights are usually expensive than their electrical counterparts, however for many applications, solar lights are typically easier to install and do not require the extensive wiring that is necessary with electrical lighting. Even with the additional expense of solar lights, many consumers find that the savings generated by consuming less electricity make solar lighting an attractive and viable alternative to outdoor electrical lighting.
Solar powered lights utilize solar cells to harness the power of the sun. For this reason, solar powered lights must be installed in an area that receives direct sunlight to work. Solar cells are typically made primarily of silicon and other materials, such as phosphorus, to help the silicon work more effectively. The expense of silicon is one of the main reasons that solar lighting is typically more expensive than electrical lights. However as solar technology improves, the pricing of solar lighting will in all likelihood continue to decrease.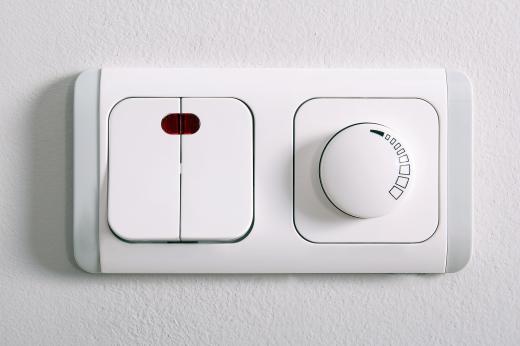 During the day, solar cells absorb sunlight and use the energy from the sun to charge a rechargeable nickel cadmium battery. This battery is what actually powers the light when the solar light is on. The light will continue to function until the battery has used up its charge. With a full charge, solar lighting can stay illuminated for approximately eight to twelve hours.
Solar lights have a device known as a photoresistor that detects the level of light that is being received. When the photoresistor detects little or no light, an electrical connection is made that activates the battery, which turns on the light. Conversely, when the photoresistor detects light, the connection to the battery is deactivated, turning off the light. Many solar powered lights are manufactured with a switch that allows the user to manually override the automatic on/off function. This allows the user greater flexibility to determine when lighting is desired.
Solar lights can be purchased at most major hardware and home improvement stores. They can also be purchased from a wide variety of specialty retailers on the internet.
AS FEATURED ON:
AS FEATURED ON:

By: Albo

Sunlight provides power for solar lights, which are generally used outdoors.

By: Yoanna Boyadzhieva

While solar lights are usually programmed to turn off automatically, but it's still a good idea to install a manual light switch.